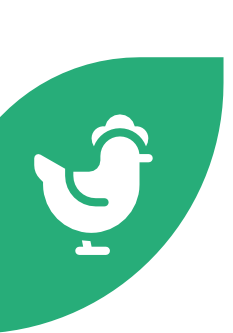 Poultry production
Poultry production in Nigeria has been on a rapid expansion over the past decades and therefore one of the most capitalized subsectors in the agricultural sector of the economy.
Of the total national poultry flocks is backyard poultry and is accorded very high assets value.
Is Nigeria's chicken estimated population
Of the total protein intake of Nigerians is provided by livestock
Poultry production in Nigeria can be classified into extensive and intensive systems based on scale, stock and the extensive production system presently account for about 85%.
The poultry sector was the most dynamic meat sector during the last decade, showing the greatest growth of all meat sectors as reflected in world consumption. The dynamism of the global poultry sector has been supported by a strong growth in demand.
By RIF, we believe in the importance of producing high quality meat at the lowest production cost. With our European partner MG2MIX we develop taylor made natural solutions and feeding program to decrease the cost of anti-biotic use as well as increase the yield of meat and eggs production.